AMERICAN JOURNAL OF DISTANCE EDUCATION
We are pleased and honoured that The American Journal of Distance Education is once again running a special ICICTE issue. A copy of the journal will be given to delegates who attend this year's conference.
The editor is Professor Michael G. Moore, ICICTE 2014 keynote speaker.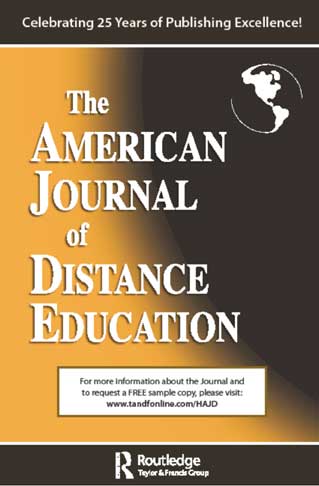 The American Journal of Distance Education is the internationally recognized journal of research and scholarship in the field of American distance education. Research in distance education explores topics central to teaching-learning relationships where the actors are geographically separated and communication takes place through technologies such as audio and video broadcasts, teleconferences and recordings, printed study guides, and multimedia systems. In the 21st century, the dominant communications technology in distance education is the Internet, and most articles in AJDE now focus on online learning, e-learning, distributed learning, asynchronous learning, blended learning, and social networks.
With increasing numbers of individuals and institutions becoming involved in these various forms of distance education, The American Journal of Distance Education offers a repository of over 25 years of research-based knowledge about all aspects of the pedagogy of the field as well as reports of the latest findings in such areas as:
• building and sustaining effective delivery systems
• course design and application of instructional design theories
• facilitating interaction between students and with instructors
• factors influencing student achievement and satisfaction
• the changing roles of faculty and changes in institutional culture
• administrative and policy issues including cost-effectiveness and copyright
Each issue contains an interview with a leading figure in the field, one or more book reviews, or both.
For more information about the journal, visit: www.tandfonline.com/HAJD
Members of ICICTE Can Receive a One Year Print+Online Subscription (4 Issues) for $48 USD.
For more information on subscribing in the US, contact:
Taylor & Francis, Inc. Attn: Journals Customer Service
530 Walnut Street
Philadelphia, PA 19106
Toll Free: (800) 354-1420, press "4"
Fax: (215) 207-0046
Email: customerservice@taylorandfrancis.com
Outside the US: Informa UK Ltd
T&F Customer Service
Sheepen Place, Colchester
Essex, C03 3LP, UK
Tel.:+44 (0)20 7017 5544
Fax:+44 (0)20 7017 5198
Email: tf.enquiries@tfinforma.com