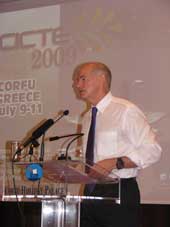 Images (left to right):
1 - The lead-up to Mr Papandreou's visit;
2-4 - Arrival at the Corfu Holiday Palace Hotel, and met by Mrs Nancy Pyrini, Conference Director;
5 - Part of the audience that packed the ballroom. Mr Papandreou is in the front row;
6 - Mr Papandreou gives his talk;
7 - The end of the talk;
8 - Professor Ken Fernstrom, on behalf of ICICTE, gives Mr Papandreou a gift by way of thanks;
9 - Beginning of the workshop with members of the ICICTE Scientific Committee.
10 - Left to right: Mrs Angela Gerekou, Professor Marcie Boucouvalas (chair), Mr George Papandreou, Mrs Anna Diamantopoulou, Mrs Nancy Pyrini.
11 - Left to right facing the camera: Professor Greg Anderson, Dr Anders D. Olofsson, Dr J. Ola Lindberg, Dr Ġorġ Mallia, Professor Ken Fernstrom, Dr Tony Whitefield.
12 - Left to right facing the camera: Dr Henk Ejkmann, Professor Raymond Welch, Prince Pericles Asher Rospigliosi, Mr Peter Mayall.
THE CONFERENCE
PROGRAMME & PAPERS
HOTEL & TRAVEL
Presentation and Workshop by George Papandreou (July 10, 2009)
George Papandreou, leader of PASOK and of Socialist International, addressed the ICICTE 2009 Conference and held a workshop with members of the conference Scientific Committee about issues related to innovation in Education.
Prince Pericles Rospigliosi blogged the ten points made by Mr Papandreou during his talk. You can read that HERE.
Below is a visual representation of the event.
w
s

Click here to see a rough edit of a number of clips of Mr Papandreou's speech