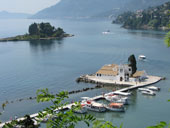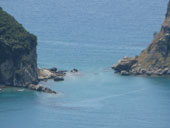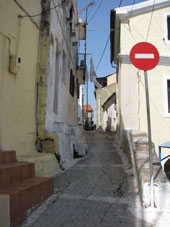 THE CONFERENCE
PROGRAMME & PAPERS
HOTEL & TRAVEL
CORFU
ICICTE 2009 will be held on the beautiful Greek Island of Corfu, which is the most popular of the Ionian Islands. It is a very green island and is the product of a mixture of the civilizations that have passed through at various times.

The town of Corfu (Kerkyra) impresses and charms the visitor with its two forts, narrow streets, tall houses, arcades, Venetian-built Town Hall, church to Saint Spyridon, the island's patron saint, flower-filled gardens, and balconies with their superb wrought-iron fences.
Flooded with sights, Corfu is a small paradise on Earth. From Paleokastritsa to Kanoni, from the Achillion to Pontikonissi and Corfu's northern coast, one will find crystal water scenic coves greenery and vegetation that 'sinks' into the deep blue sea. Corfu island is one of the most interesting islands of the Ionian sea. It is an amalgam of natural beauties, traditional features and archaeological sites. Corfu island lies to the north of the Ionian sea at the entrance of Adriatic. It is the second largest island in the group known as the Seven Islands, or Eptanisa. Corfu is the island of miracles and wonders, where every moment the scene changes without affecting the harmony of the terrain.

The greenest of the Greek islands, Corfu has three million olive trees. As well as a flower-strewn countryside and Adriatic-style villages. It has splendid coastal scenery and some excellent secluded beaches.
To download a booklet that helps you in your sightseeing of this wonderful island, click here (519kb).